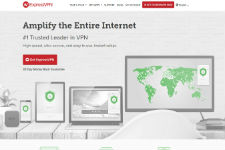 Overall User Rating – (Jump to user reviews)

Website: www.expressvpn.com or www.expressvpn.biz

Price:
From $8.33 / Month. (If purchased via 12-month plan)
Our Rating:
– 81.6%
Protection:
4/5
Software / GUI:
4/5
Features:
3.5/5
Speed:
4/5
Ease of Use:
5/5
Service Overview and Reviews
Protocols: OpenVPN, PPTP, L2TP, SSTP
Service: ExpressVPN provides a paid OpenVPN with multiple servers in 94 different countries with advanced configuration settings for TCP, L2TP/IPSec, SSTP and PPTP.
Just download the software and you are good to go. It is probably one of the simplest set-ups available. Simple, clean client interface for server selection and option to connect via TCP.
For smartphone and tablet users, it's also very simple to use. Excellent apps available for Android, iPhone and iPad. One desktop/laptop and one mobile device under the same account can be connected simultaneously.
ExpressVPN should be ideal for people in China or Middle East. They're geared to that with West Coast server locations and they work pretty hard to make sure people in those countries have multiple ways to connect reliably and get around ISP and government filters.
There is a 30-day money back guarantee but no trial account.
Privacy: This service keeps server logs of your IPs, email addresses, credit card information and is a US company governed by US law. See their Policy/Terms/FAQ
Our Thoughts: With a decent size network, ExpressVPN provides a good service particularly for those wishing to access sites that may be blocked in their area. Speeds are good across the network. Ease of set-up means the service is ideal for VPN newcomers.
ExpressVPN User Reviews
GD Star Rating
loading...
Please rate ExpressVPN from your own experience via the form at the bottom of this page.
ExpressVPN Speed Test Results
ExpressVPN Speed Test

Below you can see our testing results for ExpressVPN. For more details of how we conduct our speed tests go to VPN Speed Tests.
Test PC #1 – United States – OS (Ubuntu 11.10) – ISP (Cox)
| | | | | |
| --- | --- | --- | --- | --- |
| SpeedTest.net (Chromium) | Location | Ping | Download | Upload |
| Not Using VPN | United States | 29 | 20.64 | 6.90 |
| OpenVPN | Netherlands | 166 | 9.98 | 5.95 |
| OpenVPN | United States | 32 | 16.59 | 6.28 |
| OpenVPN | United Kingdom | 190 | 5.64 | 3.82 |
| OpenVPN | Canada | 97 | 9.91 | 6.57 |
| | | | | |
| Download Test (Curl) | Location | File Size | Av. Speed/sec | Time/mins |
| Not Using VPN | United States | 620M | 1572K | 06:43 |
| OpenVPN | Netherlands | 620M | 1313K | 08:03 |
| OpenVPN | United States | 620M | 1495K | 07:04 |
| OpenVPN | United Kingdom | 620M | 935K | 11:19 |
| OpenVPN | Canada | 620M | 1026K | 10:18 |
| | | | | |
| P2P Test (Deluge) | Location | File Size | Av. Speed/sec | Time/mins |
| Not Using VPN | United States | 695Mb | 1.74Mb | 06:40 |
| OpenVPN | Netherlands | 695Mb | 1.54Mb | 07:31 |
| OpenVPN | United States | 695Mb | 1.67Mb | 06:55 |
| OpenVPN | United Kingdom | 695Mb | 1.55Mb | 07:27 |
| OpenVPN | Canada | 695Mb | 1.54Mb | 07:30 |
Test PC #2 – United Kingdom – OS (Win 7) – ISP (Sky)
| | | | | |
| --- | --- | --- | --- | --- |
| SpeedTest.net (Firefox) | Location | Ping | Download | Upload |
| Not Using VPN | United Kingdom | 32 | 10.56 | 0.94 |
| OpenVPN | Netherlands | 45 | 9.29 | 3.04 |
| OpenVPN | United States | 138 | 5.71 | 2.27 |
| OpenVPN | United Kingdom | 47 | 8.99 | 0.8 |
| OpenVPN | Canada | 119 | 5.02 | 2.5 |
| | | | | |
| Download Test (Curl) | Location | File Size | Av. Speed/sec | Time/mins |
| Not Using VPN | United Kingdom | 620M | 1241k | 08:31 |
| OpenVPN | Netherlands | 620M | 1050k | 10:04 |
| OpenVPN | United States | 620M | 434k | 24:30 |
| OpenVPN | United Kingdom | 620M | 510k | 20:56 |
| OpenVPN | Canada | 620M | 484k | 21:49 |
| | | | | |
| P2P Test (uTorrent) | Location | File Size | Av. Speed/sec | Time/mins |
| Not Using VPN | United Kingdom | 695Mb | 1.1Mb | 10:22 |
| OpenVPN | Netherlands | 695Mb | 1.0Mb | 11:35 |
| OpenVPN | United States | 695Mb | 0.90Mb | 13:17 |
| OpenVPN | United Kingdom | 695Mb | 0.94Mb | 12:48 |
| OpenVPN | Canada | 695Mb | 0.94Mb | 12:38 |
Note: The handshake protocol (MSCHAP_V2) used by many PPTP connections has been cracked and therefore PPTP could now be considered unencrypted. For maximum security use OpenVPN or L2TP.
https://www.cloudcracker.com/blog/2012/07/29/cracking-ms-chap-v2/