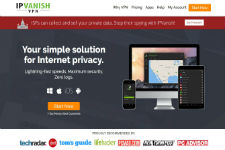 Overall User Rating – (Jump to user reviews)

Website: www.ipvanish.com
Price:
$6.49 / Month. (If purchased via 12-month plan) Accepts Bitcoins.
Our Rating:
– 93.4%
Protection:
4.5/5

Software / GUI:
5/5

Features:
4.5/5

Speed:
5/5

Ease of Use:
4.5/5
Service Overview and Reviews
Protocols: Open VPN, PPTP and L2TP.
Service: IPVanish offers a paid VPN service with 750+ servers in 60+ countries allowing you to hide behind 40,000+ shared IPs.
The Windows and Mac software clients are very good and are both easy to set up and use and include extensive features.
From the dashboard you can easily see from the map the server you are connected to, view diagnostics and set up auto connect and reconnect options.
Server selection in the software is simple and you can select from OpenVPN (UDP or TCP), L2TP, or PPTP before you connect and there is a choice of two ports. You can set your IP address to change automatically and verify the address from a number of sources.
Config files and instructions and also provided for manual set-up of OpenVPN, PPTP or L2TP on all platforms including for Linux and Routers.
For mobile devices there is an excellent app available for Android, iPhone, and iPad. Manual set-up instructions are also available if required.
Two simultaneous connections are allowed per user account, which always a great plus given the ever expanding use of mobile devices and there is a 7-day money back guarantee.
Privacy: IPVanish logs the times you connect to and disconnect from IPVanish, but do not log any user activity (e.g. what websites you visit, who you chat/talk to, or what data is transferred). Users are given dynamic and shared IP addresses on the same servers so tracking individual usage is not possible. See their Policy/Terms/FAQ
Our Thoughts: IPVanish have expanded rapidly recently and now have an extensive network of servers in multiple countries. The software is a cinch to set-up and use, connections are reliable, and speeds were very, very good in our tests.
Service and support is quick and extremely helpful. They seem to take any issues seriously.
To get the most out of their speed, OpenVPN (UDP) seemed to be consistently the fastest and most stable when doing our testing, followed by l2tp and OpenVPN (TCP). We didn't bother checking PPTP since it's the least preferred protocol these days. With a few exceptions, choosing servers based on lower ping times (less than ~200) seemed to be a somewhat reliable starting indicator of performance. Also, it's helpful to know that "a" labelled servers are Tier 1, with "b" and "c" being lower tier. However, that doesn't always correlate to actual performance.
IPVanish User Reviews
GD Star Rating
loading...
Please rate IPVanish from your own experience via the form at the bottom of this page.
IPVanish Speed Test Results
IPVanish Speed Test

Below you can see our testing results for IPVanish. For more details of how we conduct our speed tests go to VPN Speed Tests
Test PC #1 – United States – OS (Win 7) – ISP (Cox)
| | | | | |
| --- | --- | --- | --- | --- |
| SpeedTest.net (Firefox) | Location | Ping | Download | Upload |
| Not Using VPN | United States | 25 | 34.1 | 12.59 |
| OpenVPN | United States | 26 | 26.57 | 8.84 |
| OpenVPN | United Kingdom | 158 | 10.66 | 4.32 |
| OpenVPN | Canada | 105 | 16.88 | 8.18 |
| OpenVPN | Switzerland | 195 | 10.83 | 5.13 |
| OpenVPN | South Korea | 205 | 11.64 | 7.59 |
| OpenVPN | Germany | 178 | 15.59 | 6.32 |
| | | | | |
| Download Test (Curl) | Location | File Size | Av. Speed/sec | Time/mins |
| Not Using VPN | United States | 845M | 2851k | 05:03 |
| OpenVPN | United States | 845M | 2323k | 06:12 |
| OpenVPN | United Kingdom | 845M | 1574k | 09:09 |
| OpenVPN | Canada | 845M | 2485k | 05:48 |
| OpenVPN | Switzerland | 845M | 1512k | 09:32 |
| OpenVPN | South Korea | 845M | 1695k | 08:30 |
| OpenVPN | Germany | 845M | 1864k | 07:44 |
| | | | | |
| P2P Test (Deluge) | Location | File Size | Av. Speed/sec | Time/mins |
| Not Using VPN | United States | 763Mb | 2.47Mb | 05:09 |
| OpenVPN | United States | 763Mb | 2.38Mb | 05:20 |
| OpenVPN | United Kingdom | 763Mb | 2.45Mb | 05:11 |
| OpenVPN | Canada | 763Mb | 2.41Mb | 05:17 |
| OpenVPN | Switzerland | 763Mb | 2.22Mb | 05:43 |
| OpenVPN | South Korea | 763Mb | 1.86Mb | 06:50 |
| OpenVPN | Germany | 763Mb | 2.05Mb | 06:13 |
Test PC #2 – United Kingdom – OS (Win 7) – ISP (Sky)
| | | | | |
| --- | --- | --- | --- | --- |
| SpeedTest.net (Firefox) | Location | Ping | Download | Upload |
| Not Using VPN | United Kingdom | 32 | 10.56 | 0.94 |
| OpenVPN | Austria | 72 | 8.41 | 0.63 |
| OpenVPN | United States | 181 | 6.42 | 1.53 |
| OpenVPN | United Kingdom | 46 | 9.84 | 0.82 |
| OpenVPN | Netherlands | 67 | 9.02 | 2.36 |
| | | | | |
| Download Test (Curl) | Location | File Size | Av. Speed/sec | Time/mins |
| Not Using VPN | United Kingdom | 620M | 1241k | 08:31 |
| OpenVPN | Austria | 620M | 1029k | 10:16 |
| OpenVPN | United States | 620M | 457k | 23:08 |
| OpenVPN | United Kingdom | 620M | 1139k | 09:17 |
| OpenVPN | Netherlands | 620M | 1071k | 09:52 |
| | | | | |
| P2P Test (uTorrent) | Location | File Size | Av. Speed/sec | Time/mins |
| Not Using VPN | United Kingdom | 701Mb | 1.1Mb | 10:42 |
| OpenVPN | Austria | 701Mb | 1.0Mb | 11:38 |
| OpenVPN | United States | 701Mb | 0.77Mb | 15:38 |
| OpenVPN | United Kingdom | 701Mb | 1.0Mb | 11:35 |
| OpenVPN | Netherlands | 701Mb | 1.0Mb | 10:55 |
Note: The handshake protocol (MSCHAP_V2) used by many PPTP connections has been cracked and therefore PPTP could now be considered unencrypted. For maximum security use OpenVPN or L2TP.
https://www.cloudcracker.com/blog/2012/07/29/cracking-ms-chap-v2/