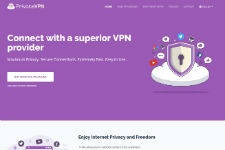 Overall User Rating – (Jump to user reviews)

Website: www.privatevpn.com
(formerly
www.privatvpn.se)
Price:
From 5.50 Euro / Month. (If purchased via 12-month plan) Accepts Bitcoins.
Our Rating:
– 88.4%
Protection:
5/5

Software / GUI:
4.5/5

Features:
4/5

Speed:
4.5/5

Ease of Use:
4.5/5
Service Overview and Reviews
Protocols: OpenVPN, L2TP, PPTP
Service: PrivateVPN provides Open VPN, L2TP and PPTP across a high performance network in 29 countries with no traffic restrictions.
You can Watch Hulu and USA TV and the BBC iPlayer and unblock all VOIP Applications include Skype.
Port forwarding is available on OpenVPN servers with dynamic and public IPs available.
You can connect up to 4 devices simultaneously and P2P is allowed (Swedish servers recommended).
Connection Guard software to select application to close on VPN disconnection.
Customer service is available 24/7.
You can get a free test for 24 hours by emailing their support from the website.
Privacy: PrivateVPN never produce logs of any data traffic. See their Policy/Terms/FAQ
Note: PrivateVPN log IP numbers on their server in the U.S. This is because the laws of the United States. No P2P on US or UK servers.
Our Thoughts: This established VPN is very impressive, speeds are excellent and privacy is placed at a premium. A fair sized network that covers all the main locations you'll need. Great client software that includes an auto-reconnect and an option to close specific programs if the connection is ever dropped. Competitively priced for the longer term plans.
PrivateVPN User Reviews
GD Star Rating
loading...
Please rate PrivateVPN from your own experience via the form at the bottom of this page.
PrivateVPN Speed Test Results
PrivateVPN Speed Test
Below you can see our testing results for PrivateVPN. For more details of how we conduct our speed tests go to VPN Speed Tests.
Test PC #1 – United States – OS (Ubuntu 11.10) – ISP (Cox)
| | | | | |
| --- | --- | --- | --- | --- |
| SpeedTest.net (Chromium) | Location | Ping | Download | Upload |
| Not Using VPN | United States | 27 | 23.21 | 7.18 |
| OpenVPN | Germany | 175 | 9.03 | 6.46 |
| OpenVPN | US | 152 | 11.53 | 6.81 |
| OpenVPN | Netherlands | 172 | 10.10 | 6.45 |
| OpenVPN | United Kingdom | 168 | 9.13 | 6.37 |
| | | | | |
| Download Test (Curl) | Location | File Size | Av. Speed/sec | Time/mins |
| Not Using VPN | United States | 620M | 1330K | 07:57 |
| OpenVPN | Germany | 620M | 1061K | 09:58 |
| OpenVPN | US | 620M | 1104K | 09:35 |
| OpenVPN | Netherlands | 620M | 864K | 12:14 |
| OpenVPN | United Kingdom | 620M | 976K | 10:50 |
| | | | | |
| P2P Test (Deluge) | Location | File Size | Av. Speed/sec | Time/mins |
| Not Using VPN | United States | 695Mb | 1.59Mb | 07:17 |
| OpenVPN | Germany | 695Mb | 1.47Mb | 07:51 |
| OpenVPN | US | 695Mb | 1.49Mb | 07:46 |
| OpenVPN | Netherlands | 695Mb | 1.56Mb | 07:24 |
Test PC #2 – United Kingdom – OS (Win 7) – ISP (Sky)
| | | | | |
| --- | --- | --- | --- | --- |
| SpeedTest.net (Firefox) | Location | Ping | Download | Upload |
| Not Using VPN | United Kingdom | 32 | 10.56 | 0.94 |
| OpenVPN | Germany | 53 | 9.95 | 0.89 |
| OpenVPN | US | 200 | 5.04 | 0.63 |
| OpenVPN | Netherlands | 41 | 9.97 | 0.89 |
| OpenVPN | United Kingdom | 36 | 9.99 | 0.88 |
| | | | | |
| Download Test (Curl) | Location | File Size | Av. Speed/sec | Time/mins |
| Not Using VPN | United Kingdom | 620M | 1241k | 08:31 |
| OpenVPN | Germany | 620M | 899k | 11:46 |
| OpenVPN | US | 620M | 714k | 14:49 |
| OpenVPN | Netherlands | 620M | 1184k | 08:56 |
| OpenVPN | United Kingdom | 620M | 1072k | 09:52 |
| | | | | |
| P2P Test (uTorrent) | Location | File Size | Av. Speed/sec | Time/mins |
| Not Using VPN | United Kingdom | 695Mb | 1.1Mb | 10:22 |
| OpenVPN | Germany | 695Mb | 0.97Mb | 12:15 |
| OpenVPN | US | 695Mb | 0.78Mb | 15:05 |
| OpenVPN | Netherlands | 695Mb | 0.90Mb | 13:05 |
Tips: OpenVPN seems to be faster than PPTP connections
Note: The handshake protocol (MSCHAP_V2) used by many PPTP connections has been cracked and therefore PPTP could now be considered unencrypted. For maximum security use OpenVPN or L2TP.
https://www.cloudcracker.com/blog/2012/07/29/cracking-ms-chap-v2/