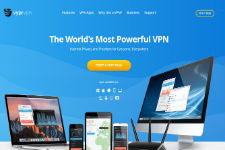 Overall User Rating – (Jump to user reviews)

Website: www.vyprvpn.com
Price:
From $5.30 / Month (If purchased via 12-month plan)
Our Rating:
– 78.4%
Protection:
4/5

Software / GUI:
4/5

Features:
4/5

Speed:
5/5

Ease of Use:
4.5/5
Service Overview and Reviews
Protocols: PPTP plus L2TP/IPsec and Open VPN with Pro version.
Service: VyprVPN offers a paid VPN service with fast servers in 60+ different countries with 700+ servers and 200,000+ IP's.
The basic version offers PPTP with 128-bit encryption which will probably be fine for most users. The Pro version also offers L2TP/IPsec and Open VPN with 256-bit encryption for extra security.
You can install the software using the normal OpenVPN GUI or download the Windows app. Both are easy to install and the Win app allows you to easily switch between servers and protocols and also includes an auto connection option for wi-fi networks. A Mac install is also available.
VyprVPN also have Mobile Apps for Android and iOS (pro only) and all VyprVPN users get at least 10GB of secure Dump Truck online storage included free with their accounts.
7 day money back guarantee and free trial.
Privacy: VyprVPN is provided by Golden Frog who are a US company governed by US law. See their Policy/Terms/FAQ
Our Thoughts: We tested the pro version using both PPTP and OpenVPN via the Windows app. Installation was simple and the servers are consistently fast across the network. A good VPN service if a little more expensive than others we have tested.
VyprVPN User Reviews
GD Star Rating
loading...
Please rate VyprVPN from your own experience via the form at the bottom of this page.
VyprVPN Speed Test Results
VyprVPN Speed Test

Below you can see our testing results for VyprVPN. For more details of how we conduct our speed tests go to VPN Speed Tests
Test PC #1 – United States – OS (Ubuntu 11.10) – ISP (Cox)
| | | | | |
| --- | --- | --- | --- | --- |
| SpeedTest.net | Location | Ping | Download | Upload |
| Not Using VPN | United States | 24 | 20.54 | 7.16 |
| OpenVPN | Netherlands (EU) | 185 | 11.57 | 5.91 |
| OpenVPN | Hong Kong | 201 | 8.32 | 1.10 |
| OpenVPN | United States | 33 | 15.39 | 6.81 |
| OpenVPN | United Kingdom | 174 | 5.76 | 2.78 |
| | | | | |
| Download Test (Curl) | Location | File Size | Av. Speed/sec | Time/mins |
| Not Using VPN | United States | 620M | 1510k | 06:59 |
| OpenVPN | Netherlands (EU) | 620M | 1361k | 07:46 |
| OpenVPN | Hong Kong | 620M | 1077k | 09:49 |
| OpenVPN | United States | 620M | 1266k | 08:21 |
| OpenVPN | United Kingdom | 620M | 889k | 11:53 |
| | | | | |
| P2P Test (Deluge) | Location | File Size | Av. Speed/sec | Time/mins |
| Not Using VPN | United States | 695Mb | 1.72Mb | 06:44 |
| OpenVPN | Netherlands (EU) | 695Mb | 1.49Mb | 07:45 |
| OpenVPN | Hong Kong | 695Mb | 1.51Mb | 07:40 |
| OpenVPN | United States | 695Mb | 1.61Mb | 07:13 |
| OpenVPN | United Kingdom | 695Mb | 1.39Mb | 08:21 |
Test PC #2 – United Kingdom – OS (Win 7) – ISP (Sky)
| | | | | |
| --- | --- | --- | --- | --- |
| SpeedTest.net (Firefox) | Location | Ping | Download | Upload |
| Not Using VPN | United Kingdom | 32 | 10.56 | 0.94 |
| OpenVPN | Germany | 45 | 9.87 | 0.87 |
| OpenVPN | Netherlands (EU) | 63 | 9.82 | 0.89 |
| OpenVPN | United States | 114 | 8.12 | 0.85 |
| OpenVPN | United Kingdom | 49 | 9.91 | 0.87 |
| | | | | |
| Download Test (Curl) | Location | File Size | Av. Speed/sec | Time/mins |
| Not Using VPN | United Kingdom | 620M | 1241k | 08:31 |
| OpenVPN | Germany | 620M | 931k | 11:21 |
| OpenVPN | Netherlands (EU) | 620M | 926k | 11:25 |
| OpenVPN | United States | 620M | 908k | 11:38 |
| OpenVPN | United Kingdom | 620M | 1125k | 09:24 |
| | | | | |
| P2P Test (uTorrent) | Location | File Size | Av. Speed/sec | Time/mins |
| Not Using VPN | United Kingdom | 695Mb | 1.1Mb | 10:22 |
| OpenVPN | Germany | 695Mb | 1.0Mb | 11:05 |
| OpenVPN | Netherlands (EU) | 695Mb | 1.1Mb | 10:34 |
| OpenVPN | United States | 695Mb | 0.99Mb | 12:09 |
| OpenVPN | United Kingdom | 695Mb | 1.0Mb | 10:56 |
Note: The handshake protocol (MSCHAP_V2) used by many PPTP connections has been cracked and therefore PPTP could now be considered unencrypted. For maximum security use OpenVPN or L2TP.
https://www.cloudcracker.com/blog/2012/07/29/cracking-ms-chap-v2/