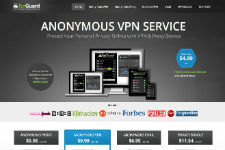 Overall User Rating – (Jump to user reviews):

Website:
www.torguard.net

Price:
From $4.99 / Month. (If purchased via 12-month plan) Accepts Bitcoins.
Coupon / Promo:
20% Off* use promo code BestVPNForYou (case sensitive)
Our Rating:
– 91.6%
Protection:
5/5

Software / GUI:
4.5/5

Features:
4/5

Speed:
4.5/5

Ease of Use:
4.5/5
Service Overview and Reviews
Protocols: OpenVPN, PPTP and L2TP
Service: TorGuard offers a VPN service to anonymize your internet connection via 1600+ servers across 50+ countries including: United States, United Kingdom, Canada, Netherlands, Norway, Iceland, India, Germany, Turkey, Russia, Romania, Switzerland, Australia, New Zealand, Brazil, Hong Kong, Japan, and Singapore.
P2P/Torrents allowed on servers in Netherlands, Canada, Russia, Romania, Switzerland, Iceland, Norway.
The client software has recently been updated to Viscosity, a feature rich client where you can check the status of your connection, easily switch servers, auto start and reconnect and more.
Windows and Mac – "Lite" OpenVPN client (portable version) and Pro Viscosity (most popular)
Linux (one of the only fully working linux gui apps we've seen)
Android – The TorGuard app is available on Google play and is compatible with almost every android 4.0 device. PPTP and L2TP are supported for older devices.
iPhone and iPad – For non-jailbroken devices, PPTP and L2TP are supported. For OpenVPN your device must be jailbroken.
Includes easy Torrent Proxy setup software that adds the optimal proxy settings to torrent clients like Deluge, utorrent, Bittorrent and Vuze. The software is compatible with Windows, Mac, and Linux.
Server status page shows real-time overview of servers where you can check if there's any known issues and what protocols are available on each server.
TorGuard's new Stealth VPN service enables you to bypass DPI firewalls and unlock access to/from countries like China, Iran and the UAE.
One particularly handy feature with Torguard is they also allow up to 5 simultaneous connections per VPN account.
TorGuard also offers bittorrent proxy and seedbox options.
Additional Services
DD-WRT Router and Streaming TV box store
Offers a wide variety of DDWRT and Tomato Routers that come pre-configured and ready to "plug and play".
Anonymous PGP encrypted email service
Privacy: TorGuard does not keep logs of customer activity, store IP's or time stamps. See their Policy/Terms/FAQ
Coupon / Promo:* We have negotiated a special discount of 20% with TorGuard. Insert the TorGuard promo code BestVPNForYou (case sensitive) just before the checkout to receive your discount.
Our Thoughts: We tested the VPN service only and results in our speed tests were decent. If you want to anonymize your torrent downloads this definitely does the job.
The Viscosity software client is slick and very easy to use and we particularly liked the server status details pop-up.
Torguard has been rapidly improving and expanding all aspects of their services, so we expect it to keep getting better over time. We also experienced excellent support responsiveness, and they seem to be very helpful in quickly addressing any issues, concerns, feedback, or technical problems.
The 5 simultaneous connections feature is really a huge and unique plus for many people from a flexibility standpoint, especially given the ever increasing use of mobile devices.
See our Best VPN for Torrents
Disclaimer: Know the laws in your country and locality. BestVPNForYou.com do not suggest, condone, or practice the violation of national or international copyright law. That being said, we do support fundamental reforms of copyright laws as proposed by the Pirate Party political and activist organizations around the world.
TorGuard User Reviews
GD Star Rating
a WordPress rating system
Please rate TorGuard from your own experience via the form at the bottom of this page.
TorGuard Speed Test Results
TorGuard Speed Test

Below you can see our testing results for TorGuard. For more details of how we conduct our speed tests go to VPN Speed Tests
Test PC #1 – United States – OS (Ubuntu 12.04) – ISP (Cox)
| | | | | |
| --- | --- | --- | --- | --- |
| SpeedTest.net (Iron) | Location | Ping | Download | Upload |
| Not Using VPN | United States | 24 | 27.85 | 8.31 |
| OpenVPN | Romania | 219 | 7.69 | 3.52 |
| OpenVPN | Netherlands | 182 | 8.19 | 3.74 |
| | | | | |
| Download Test (Curl) | Location | File Size | Av. Speed/sec | Time/mins |
| Not Using VPN | United States | 783M | 1514k | 08:49 |
| OpenVPN | Romania | 783M | 1035k | 12:54 |
| OpenVPN | Netherlands | 783M | 1127k | 11.51 |
| | | | | |
| P2P Test (Transmission) | Location | File Size | Av. Speed/sec | Time/mins |
| Not Using VPN | United States | 698.3Mb | 1.77Mb | 06:35 |
| OpenVPN | Romania | 698.3Mb | 1.45Mb | 08:03 |
| OpenVPN | Netherlands | 698.3Mb | 1.57Mb | 07:25 |
Test PC #2 – United Kingdom – OS (Win 7) – ISP (Sky)
| | | | | |
| --- | --- | --- | --- | --- |
| SpeedTest.net (Firefox) | Location | Ping | Download | Upload |
| Not Using VPN | United Kingdom | 32 | 10.56 | 0.94 |
| OpenVPN | Romania | 89 | 9.75 | 0.87 |
| OpenVPN | Netherlands | 42 | 9.94 | 0.88 |
| | | | | |
| Download Test (Curl) | Location | File Size | Av. Speed/sec | Time/mins |
| Not Using VPN | United Kingdom | 783M | 1240k | 10:46 |
| OpenVPN | Romania | 783M | 1193k | 11:11 |
| OpenVPN | Netherlands | 783M | 1153k | 11:35 |
| | | | | |
| P2P Test (uTorrent) | Location | File Size | Av. Speed/sec | Time/mins |
| Not Using VPN | United Kingdom | 701Mb | 1.1Mb | 10:42 |
| OpenVPN | Romania | 701Mb | 1.0Mb | 11:35 |
| OpenVPN | Netherlands | 701Mb | 0.85Mb | 14:06 |
Note: The handshake protocol (MSCHAP_V2) used by many PPTP connections has been cracked and therefore PPTP could now be considered unencrypted. For maximum security use OpenVPN or L2TP.
https://www.cloudcracker.com/blog/2012/07/29/cracking-ms-chap-v2/