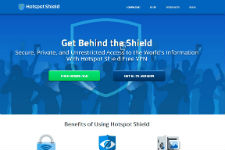 Overall User Rating – (Jump to user reviews)

Website:
www.hotspotshield.com

Price:
Elite version from $5.99 / Month. (If purchased via 12-month plan)
Our Rating:
– 71.6%
Protection:
3/5

Software / GUI:
3/5

Features:
2/5

Speed:
3/5

Ease of Use:
4/5
Service Overview and Reviews
Protocols: PPTP, L2TP
Service: Hotspot Shield offers a VPN service connecting to virtual locations in USA, UK, Australia, Japan, Canada and Germany.
There is a free version but this comes with ads loading directly into your web browser which most will find intrusive. The paid (Elite) version does away with these ads and boasts faster, less populated servers.
The software is basic and will protect you from snoopers at Wi-Fi hotspots such as at hotels, airports and corporate offices and allow you to unblock sites like Hulu, YouTube, etc that may be blocked from your location.
Versions are available for Windows, Mac, iPhone, iPad and Android
The Android version includes 'Smart Protection' which automatically detects unsafe Wi-Fi networks and then turns on to protect you.
Note: p2p / torrents are blocked completely.
Privacy: They are a US company governed by US law. See their Policy/Terms/FAQ
Our Thoughts: We tested both the free and paid services and whilst the speeds were tolerable on the free service the intrusive advertising will not be for most people. The paid service is faster and reasonably priced for the 12 month option but the total block on p2p will put off many hardcore users.
If you are just looking for ultra-basic security and privacy at wi-fi hotspots or to unblock censored sites this could be for you. If p2p file-sharing or stronger security and anonymity is your thing you'll really need to look at other VPN alternatives.
Hotspot Shield Reviews
GD Star Rating
loading...
Please rate Hotspot Shield from your own experience via the form at the bottom of this page.
Hotspot Shield Speed Test Results
Hotspot Shield Speed Test

Below you can see our testing results for Hotspot Shield. For more details of how we conduct our speed tests go to VPN Speed Tests
Test PC #1 – United States – OS (Mac OSX) – ISP (Cox)
| | | | | |
| --- | --- | --- | --- | --- |
| SpeedTest.net (Firefox) | Location | Ping | Download | Upload |
| Not Using VPN | United States | 31 | 24.75 | 6.99 |
| Using FreeVPN Software | United States | 82 | 9.87 | 4.29 |
| Using Elite (paid) VPN Software | United States | 53 | 13.09 | 5.49 |
| | | | | |
| Download Test (Curl) | Location | File Size | Av. Speed/sec | Time/mins |
| Not Using VPN | United States | 845M | 1643k | 08:46 |
| Using FreeVPN Software | United States | 845M | 999k | 14:24 |
| Using Elite (paid) VPN Software | United States | 845M | 1156k | 12:28 |
| | | | | |
| P2P Test (Transmission) | Location | File Size | Av. Speed/sec | Time/mins |
| Not Using VPN | United States | 695.3Mb | 1.65Mb | 07:02:00 |
| Using FreeVPN Software | United States | Blocked | Blocked | Blocked |
| Using Elite (paid) VPN Software | United States | Blocked | Blocked | Blocked |
Test PC #2 – United Kingdom – OS (Win 7) – ISP (Sky)
| | | | | |
| --- | --- | --- | --- | --- |
| SpeedTest.net (Firefox) | Location | Ping | Download | Upload |
| Not Using VPN | United Kingdom | 36 | 10.57 | 0.95 |
| Using FreeVPN Software | United States | 182 | 4.05 | 0.94 |
| Using Elite (paid) VPN Software | United States | 143 | 9.02 | 0.93 |
| | | | | |
| Download Test (Curl) | Location | File Size | Av. Speed/sec | Time/mins |
| Not Using VPN | United Kingdom | 783M | 1228k | 10:52 |
| Using FreeVPN Software | United States | 783M | 277k | 48:04 |
| Using Elite (paid) VPN Software | United States | 783M | 997k | 13:23 |
| | | | | |
| P2P Test (uTorrent) | Location | File Size | Av. Speed/sec | Time/mins |
| Not Using VPN | United Kingdom | 695Mb | 1.1Mb | 09:58 |
| Using FreeVPN Software | United States | Blocked | Blocked | Blocked |
| Using Elite (paid) VPN Software | United States | Blocked | Blocked | Blocked |
*P2P Blocked All Servers
Note: The handshake protocol (MSCHAP_V2) used by many PPTP connections has been cracked and therefore PPTP could now be considered unencrypted. For maximum security use OpenVPN or L2TP.
https://www.cloudcracker.com/blog/2012/07/29/cracking-ms-chap-v2/