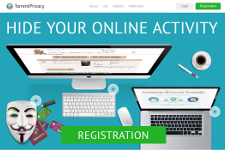 Overall User Rating – (Jump to user reviews)

Website: www.torrentprivacy.com
Price:
From $8.32 / Month. (If purchased via 12-month plan)
Our Rating:
Not Yet Rated by us
Protection:
NYR

Software / GUI:
NYR

Features:
NYR

Speed:
NYR

Ease of Use:
NYR
Service Overview and Reviews
Service: TorrentPrivacy is another anonymous paid proxy service using the SSH protocol.
By using this tool you not only disguise your IP but can bypass firewall and traffic shaping snoopers.
The software is incredibly easy to get started with, no manual configuration is needed and it works 'out of the box'.
Privacy: TorrentPrivacy don't store IP addresses and do not disclose any information to 3rd parties. See their Policy/Terms/FAQ
Our Thoughts: Bestvpnforyou.com tested the software as a bittorrent proxy a while back and it was OK if a bit expensive for what you got. They now also now include a fully fledged VPN service (which makes the price much more reasonable) but we have yet to test and rate this.
See our Best VPN for Torrents
Disclaimer: Know the laws in your country and locality. BestVPNForYou.com do not suggest, condone, or practice the violation of national or international copyright law. That being said, we do support fundamental reforms of copyright laws as proposed by the Pirate Party political and activist organizations around the world.
TorrentPrivacy User Reviews
GD Star Rating
loading...
Please rate TorrentPrivacy from your own experience via the form at the bottom of this page.