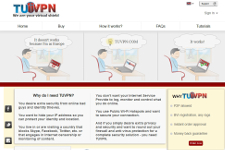 Overall User Rating – (Jump to user reviews)

Website: www.tuvpn.com
Price:
From $5.33 / Month. (If purchased via 6-month plan)
Our Rating:
– 70%
Protection:
4/5

Software / GUI:
3/5

Features:
3/5

Speed:
3.5/5

Ease of Use:
4.5/5
Service Overview and Reviews
Protocols: OpenVPN, PPTP VPN
Service: TUVPN provides a paid OpenVPN with multiple servers in 8 different countries with both shared and dedicated IPs. They also offer different VPN protocols like PPTP, L2TP & SSH2.
Access to all servers (with Shared IP accounts access to proxies on ALL servers, with Dedicated IP accounts access to the proxy on the VPN server you have subscribed).
P2P is allowed in Netherlands – Amsterdam,Sweden – Stockholm, Canada – Montreal locations only.
For business, TUVPN offers a fully managed scalable solution on secure dedicated servers.
Privacy: TUVPN do not monitor, store or record ANY user activity in the course of their normal service. See their Policy/Terms/FAQ
Our Thoughts: TUVPN are a good reliable VPN provider with extremely efficient support staff. The software is easy to use and install and speeds across their comprehensive network are good.
First class business solution for those looking for a corporate VPN service.
TUVPN User Reviews
GD Star Rating
loading...
Please rate TUVPN from your own experience via the form at the bottom of this page.
TUVPN Speed Test Results
TUVPN Speed Test
Below you can see our testing results for TUVPN. For more details of how we conduct our speed tests go to VPN Speed Tests.
Test PC #1 – United States – OS (Ubuntu 11.10) – ISP (Cox)
| | | | | |
| --- | --- | --- | --- | --- |
| SpeedTest.net (Chromium) | Location | Ping | Download | Upload |
| Not Using VPN | United States | 29 | 26.21 | 7.37 |
| OpenVPN | Netherlands | 175 | 10.29 | 7.21 |
| OpenVPN | United States | 37 | 15.19 | 6.73 |
| OpenVPN | United Kingdom | 176 | 13.26 | 2.88 |
| OpenVPN | Canada | 109 | 9.26 | 6.94 |
| | | | | |
| Download Test (Curl) | Location | File Size | Av. Speed/sec | Time/mins |
| Not Using VPN | United States | 620M | 1816K | 05:49 |
| OpenVPN | Netherlands | 620M | 834K | 12:41 |
| OpenVPN | United States | 620M | 1122K | 09:25 |
| OpenVPN | United Kingdom | 620M | 1297K | 08:09 |
| OpenVPN | Canada | 620M | 1149K | 09:12 |
| | | | | |
| P2P Test (Transmission) | Location | File Size | Av. Speed/sec | Time/mins |
| Not Using VPN | N/A* | N/A* | N/A* | N/A* |
| OpenVPN | N/A* | N/A* | N/A* | N/A* |
| | | | | |
Test PC #2 – United Kingdom – OS (Win 7) – ISP (Sky)
| | | | | |
| --- | --- | --- | --- | --- |
| SpeedTest.net (Firefox) | Location | Ping | Download | Upload |
| Not Using VPN | United Kingdom | 32 | 10.56 | 0.94 |
| OpenVPN | Netherlands | 40 | 9.79 | 0.87 |
| OpenVPN | United States | 127 | 9.11 | 0.77 |
| OpenVPN | United Kingdom | 41 | 9.8 | 0.88 |
| OpenVPN | Canada | 116 | 6.64 | 0.83 |
| | | | | |
| Download Test (Curl) | Location | File Size | Av. Speed/sec | Time/mins |
| Not Using VPN | United Kingdom | 620M | 1241k | 08:31 |
| OpenVPN | Netherlands | 620M | 1105k | 09:34 |
| OpenVPN | United States | 620M | 414k | 25:34 |
| OpenVPN | United Kingdom | 620M | 1012k | 10:27 |
| OpenVPN | Canada | 620M | 908k | 11:38 |
| | | | | |
| P2P Test (uTorrent) | Location | File Size | Av. Speed/sec | Time/mins |
| Not Using VPN | N/A* | N/A* | N/A* | N/A* |
| OpenVPN | N/A* | N/A* | N/A* | N/A* |
| | | | | |
*P2P Blocked All Servers
Note: The handshake protocol (MSCHAP_V2) used by many PPTP connections has been cracked and therefore PPTP could now be considered unencrypted. For maximum security use OpenVPN or L2TP.
https://www.cloudcracker.com/blog/2012/07/29/cracking-ms-chap-v2/[/alert]