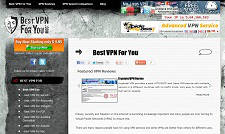 Out with the old… in with the new. We redesigned the site with a new look and a seamless responsive design for mobile users; we hope you like it.
We were very attached to the look and feel of our old website but times and technology move on. We looked long and hard for a suitable replacement and are confident we have found one to make our site more useful for finding a VPN service.
We wanted something modern, sleek and super fast and we found what we were looking for with Twitter Bootstrap, a HTML5 & CSS3 framework modified for WordPress by 320press.
Of course we wanted to keep the grunge, underground look and feel which we think we have achieved and improved upon. And from a user perspective the responsive design means that whatever device you are viewing the site from, be it a PC, Mac or Tablet, iPad or iPhone or Android device the site looks and responds perfectly. Try re-sizing your browser to the size of a smartphone and you'll see what we mean.
Our reviews, user reviews, and speed tests are as illuminating as before and we've refined our own ratings from a simple 5 star system to a graded percentage giving a more accurate reflection of our ratings.
Enjoy!