There's some pretty kick ass new things coming from Torguard in the past month or so as they aggressively expand their services.
The Store!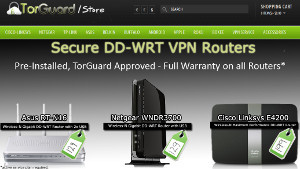 First is a new "Torguard Store" selling routers already flashed with DD-WRT open source firmware and pre-configured, giving customers an easy way to fire up a VPN connection (or multiple connections) at the router level. Flashing firmware on routers can sometimes be dicey and/or a pain, so sometimes people are hesitant to even do it. This helps with having it ready to go after you plug it in.
Their store also offers a couple of common and popular TV streaming boxes for sale like Boxee and Roku. If you'd like to go that direction, our personal opinion is go with Roku. Boxee used to be great, but newer ones have reports of being somewhat quirky and they've locked down too much of their platform over time. Also, given it's similarity to XBMC (it's based on it), if you want maximum flexibility it's probably better just to build a XBMC box. Roku is a closed platform too, but as far as turnkey streaming solutions go, it's very reliable, easy, and there's virtually unlimited content options with the use of private channels.
Anonymous Email
Torguard has also launched what sounds like a pretty cool anonymous PGP encrypted email service, which has proven to be much more popular than expected according to a Torguard rep we spoke to. We haven't tried it yet, but will probably do so soon.
Overall, we're pretty impressed with all they've been doing lately. To be honest we weren't overly thrilled with Torguard at first last year, but lately with their expansion of server choices, increased speeds, great support, and now the store and anonymous email, it really seems they're dedicated to providing and building themselves into a top notch service.
To check out more go here:
Torguard main site
or here:
Our full review, user reviews, and speed tests
or don't and just watch Taylor Swift singing with goats: