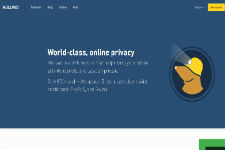 Overall User Rating – (Jump to user reviews)

Website: www.mullvad.net
Price:
$5 / Month
Our Rating:
– 71.6%
Protection:
5/5
Software / GUI:
3/5
Features:
2/5
Speed:
3/5
Ease of Use:
4/5
Service Overview and Reviews
Protocols: OpenVPN, PPTP
Service: Mullvad offers an unlimited VPN service with servers in 22 countries.
Software is available in Windows, Mac and Linux and you can also get a version for iOS and Android.
The software is basic allowing you to choose which server to connect to and includes and auto-disconnect option.
Mullvad accept Bitcoins and there is a limited free 3 hour trial.
Privacy: Mullvad don't log  any users activity. See their Policy/Terms/FAQ
Our Thoughts: A small VPN network that is big on privacy but our test results were a bit disappointing on P2P with speed fluctuating wildly during download. No UK servers.
Mullvad User Reviews
GD Star Rating
loading...
Please rate Mullvad from your own experience via the form at the bottom of this page.
Mullvad Speed Test Results
Mullvad Speed Test

Below you can see our testing results for Mullvad. For more details of how we conduct our speed tests go to VPN Speed Tests
Test PC #1 – United States – OS (Mac OSX) – ISP (Cox)
| | | | | |
| --- | --- | --- | --- | --- |
| SpeedTest.net (Firefox) | Location | Ping | Download | Upload |
| Not Using VPN | United States | 21 | 30.53 | 11.43 |
| OpenVPN | Germany | 181 | 4.1 | 3.77 |
| OpenVPN | Sweden | 213 | 4.19 | 0.58 |
| | | | | |
| Download Test (Curl) | Location | File Size | Av. Speed/sec | Time/mins |
| Not Using VPN | United States | 845M | 1605k | 08:59 |
| OpenVPN | Germany | 845M | 898k | 16:03 |
| OpenVPN | Sweden | 845M | 667k | 21:36 |
| | | | | |
| P2P Test (Transmission) | Location | File Size | Av. Speed/sec | Time/mins |
| Not Using VPN | US | 800.1Mb | 1.96Mb | 06:49 |
| OpenVPN | Germany | 800.1Mb | 0.79Mb | 16:55 |
| OpenVPN | Sweden | 800.1Mb | 0.95Mb | 13:58 |
Test PC #2 – United Kingdom – OS (Win 7) – ISP (Sky)
| | | | | |
| --- | --- | --- | --- | --- |
| SpeedTest.net (Firefox) | Location | Ping | Download | Upload |
| Not Using VPN | United Kingdom | 41 | 10.56 | 0.93 |
| OpenVPN | Germany | 125 | 7.54 | 0.98 |
| | | | | |
| Download Test (Curl) | Location | File Size | Av. Speed/sec | Time/mins |
| Not Using VPN | United Kingdom | 783M | 1228k | 10:52 |
| OpenVPN | Germany | 783M | 1195k | 11:10 |
| | | | | |
| P2P Test (uTorrent) | Location | File Size | Av. Speed/sec | Time/mins |
| Not Using VPN | United Kingdom | 753Mb | 1.1Mb | 11:24 |
| OpenVPN | Germany | 753Mb | 0.38Mb | 34:05 |
Note: The handshake protocol (MSCHAP_V2) used by many PPTP connections has been cracked and therefore PPTP could now be considered unencrypted. For maximum security use OpenVPN or L2TP.
https://www.cloudcracker.com/blog/2012/07/29/cracking-ms-chap-v2/