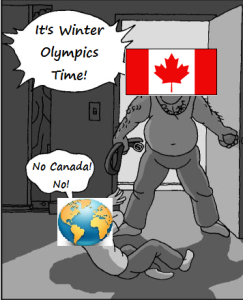 Even though the hotel rooms aren't ready and the toxic tap water is brown, the glorious clusterfuck called the 2014 Sochi Winter Olympic Games are underway and if you're away from home, you might need to change your geo-location or use other options to watch them.
The primary networks covering the Sochi Games are CBC.ca (Oh Canada), BBC (UK), and NBC (blech!). With Canada being winter-crazed maniacs (but nice!), it's only natural that CBC will have by far the most comprehensive coverage this time around.
The official free streaming links are here:
CBC – http://olympics.cbc.ca/ (For Linux, you need to use PepperFlash in Chrome or Chromium.)
BBC – http://www.bbc.co.uk/sport/winter-olympics/2014
NBC – http://www.nbcolympics.com/
However, geo-location restrictions are in place by those networks, so if you're away from home or have other barriers to watching it (restrictive network at work or school), you'll likely need to use a VPN or alternatives to access the live coverage.
Here's a list of 5 ways you can watch the Sochi Games wherever you are:
1. Use a VPN – Duh…that's why we run this site.
The simplest solution is going to be to fire up a VPN if you need to change your location and just watch the games in your browser.
Using a VPN, proxy, etc. to tweak your geo-location is going to be kind of central to almost any solution below. There's some free options down below, but realize everyone and their mother is going to be cramming onto those for the duration of the Olympics, so speeds may be pretty wonky.
Paid VPN's will get heavy use too, but for the most part there won't be as many users and most VPN's have anticipated this for a while now.
There's one specific Sochi VPN special going on that we know of:
IPVanish Sochi Winter Games Special – 25% off all plans using the coupon code SOCHI
4 others premium VPNs we'd recommend:
Free ones:
These are generally good, but on various forums and Reddit we've seen some reports of them getting slammed and slow already. YMMV. For other free options by way of browser extensions, check out item #5 further down the page.
2. Plex
Plex media server has some channels to use. There's a BBC iPlayer Channel with totally live coverage if you use a UK IP address. There's also an official CBC channel with apparently some delayed coverage, although even with a CA IP there doesn't appear to be actual live streams…at least none that are up yet. For US coverage, there's also USTVnow (see Roku section below…the process is basically the same to use it in Plex)
Without a VPN, you can also try to install and use the popular Navi-X portal on Plex. You'll first need to install the unofficial unspported app store for Plex, and then install the Navi-xtreme channel. We didn't have much luck trying Navi though, but lists change rapidly on there and it may be too early.
3. PlayOn.tv (Windows Only)
PlayOn is a media server and client somewhat similar to Plex.
The real power of PlayOn though is the "PlayMark" browser extension. It can help you send just about any web video stream from your browser to your TV via Roku, XBOX 360, or Google TV.
So if you set up access with a VPN or extension to watch in your browser, PlayMark and PlayOn now gives you a portal to send it to your TV.
4. Roku box
Roku by itself has one option we know of to watch some of the games online for free. If you register for USTVnow (need a US IP), for the first 30 days you can stream the major networks (including NBC) for free.
Then add the USTVnow channel to your Roku channel lineup, enter your USTVnow registration details, and you should be good to go.
Otherwise, Roku comes into play by being a great and simple box to pump your Plex or PlayOn server streams over to your TV.
5. Browser Extensions
Two popular browser extensions you can try to change your IP are:
Hola extension for Firefox or Chrome
Just install, click the Hola icon, and then add the desired url to unblock.
Just beware these might be slow and there's a possibility they may inject ads. Some say they don't anymore, others say they do. We haven't tried them recently, so we're not sure.
—-
If you know of other solutions, or other tips on the above, just drop them in the comments below.