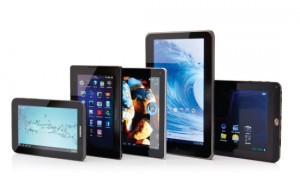 Did you get a shiny new Tablet for Christmas, maybe the new Google Nexus 7 or the latest iPad? You certainly weren't alone as Tablets now make up 15% of global sales of "smart connected devices" and are expected to outsell desktops by the end of this year.
Tablets are just so convenient for browsing both around the house or when you are on the move at work or play.
But for some reason people rarely consider their privacy and security when using a Tablet. Both Android and IOS Tablets can be easier to hack than PCs and it's a lot easier than you might think for someone to intercept your connection, particularly over public unsecured wi-fi networks that are now ubiquitous at airports and other travel terminals, hotels, cafes, bars and shops, etc.
As people use their Tablets for more and more online shopping and banking, rogue apps and hackers could be trying to steal your personal data, passwords and bank details so it's important to stay protected.
The answer is to use a VPN which secures and encrypts your connection and allows you to be totally anonymous online, protecting your connection from snoopers or hackers. Not only that but you can also bypass geo-political restrictions imposed by companies or governments. Watch the BBC iPlayer from outside the UK or Hulu from outside the US, etc. Unblock Skype and VoIP and torrent anonymously.
And let's not forget all the government snooping scandals by the likes of the NSA in the US and increasing attempts by governments around the world to control and censor the internet. You can go along way to protecting yourself from this increasing surveillance by using a VPN.
Many VPNs now allow you to connect using multiple devices so you can stay safe and secure whatever you are using. Visit our 'Best For' pages for the best VPNs for Android and for Ipad to help you decide the best VPN for your Tablet.