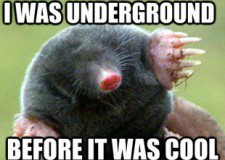 As promised we have acted quickly to add a review of another one of the VPNs mentioned in Torrent Freak's round up of VPNs that take anonymity seriously.
Mullvad are a small Swedish outfit which explains the strange name. Of course it's not strange to them as Mullvad is Swedish for mole. As in garden mole… as in mole in tunnel… in a VPN tunnel… geddit!?
They are big on privacy, take Bitcoins and you can try them out for free (3 hours only).
Check out our Mullvard Review and speed tests to see how we found the service… bit like a mole really, hidden and private but a bit slow…