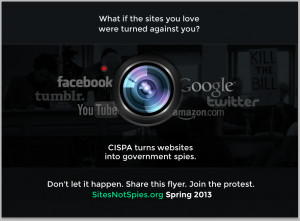 Yesterday the  U.S. House of Representatives voted to approve the Cyber Intelligence Sharing and Protection Act (CISPA) a bill that could allow companies to bypass all existing privacy law to spy on communications and pass sensitive user data to the government. A law that could turn Google, Facebook, and Twitter into legally immune government spies.
This bill affects everyone — not just U.S. citizens. Anyone with a Facebook account could now have their data shipped directly to the U.S. government. Internet users overwhelmingly oppose this bill. Over 1.5 million people signed petitions against it. But Congress still didn't listen.
This is the exact position we were in with SOPA last year. Then the Internet rose up and we made history with the SOPA strike.
This spring, Fight for the Future are going to organize the largest online privacy protest in history to make sure that CISPA goes the same route as SOPA and doesn't become the law that breaks the 4th Amendment. Are you in?
Share the flyer above and tell everyone you know to sign up to join the protest!