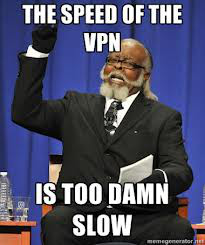 People use VPNs for all sorts of reasons but the one thing they all have in common is the desire for a fast connection through the VPN Tunnel.
Whether you're downloading a large file, torrenting, watching streaming media or just browsing the web the advantages of security and anonymity a VPN provides can quickly turn to frustration if your connection to the internet slows to a crawl.
That's why we at BestVPNForYou.com provide a comprehensive VPN speed test with our VPN reviews. And we don't just use speedtest.net like most other VPN review sites.
Our comprehensive tests are designed to really push a VPN through actual tests of downloading large files and test torrents and we also use the VPN service over a period of time in our daily internet use. In this way we can mimic as close as we can the experience users should receive.
We test a selection of the VPN's servers around the globe and we test from both the UK and US.
As well as individual VPN tests we then compile the results using our unique 'rating coefficient' into our VPN Speed Comparison Table so you can easily see the best performers. Be sure to check it out…
Remember also that some of the better VPNs, like HideMyAss and AirVPN include their own speed tests within their software.